Gloucester, ONT – Whiplash occurs when sudden movement changes in auto accidents, sports activities, falls, or physically intense activities at work or the gym force the neck and upper spine to move in ways that cause injury or discomfort. The poorly understood condition usually involves neck nerves, discs, tendons, and muscles, resulting in emergencies that require immediate attention. Medical personnel and first responders often treat whiplash with extreme caution until they can confirm, stabilize, or treat it to avoid further physical damage or permanent disabilities. Some symptoms include lightheadedness, discomfort in the neck area, migraines, rigidity, blurred vision, and concentration/memory problems.  
Patients may need physical rehabilitation to help them recover if they have recent injuries or encounter common symptoms. Physiotherapy is a non-invasive clinical therapy employing physical methods that reduce pain and restore movement. Amped Physiotherapy uses a variety of manual treatments detailed in its Physiotherapy to Treat Whiplash: A Client's Guide. Patients can learn about the relationship between physiotherapy and whiplash relating to posture, muscle mass, and potential injury defences. Physical rehabilitation can also offer an environment for patients to discuss their injury or other worries/thoughts with a physiotherapist who recommends services or offers guidance.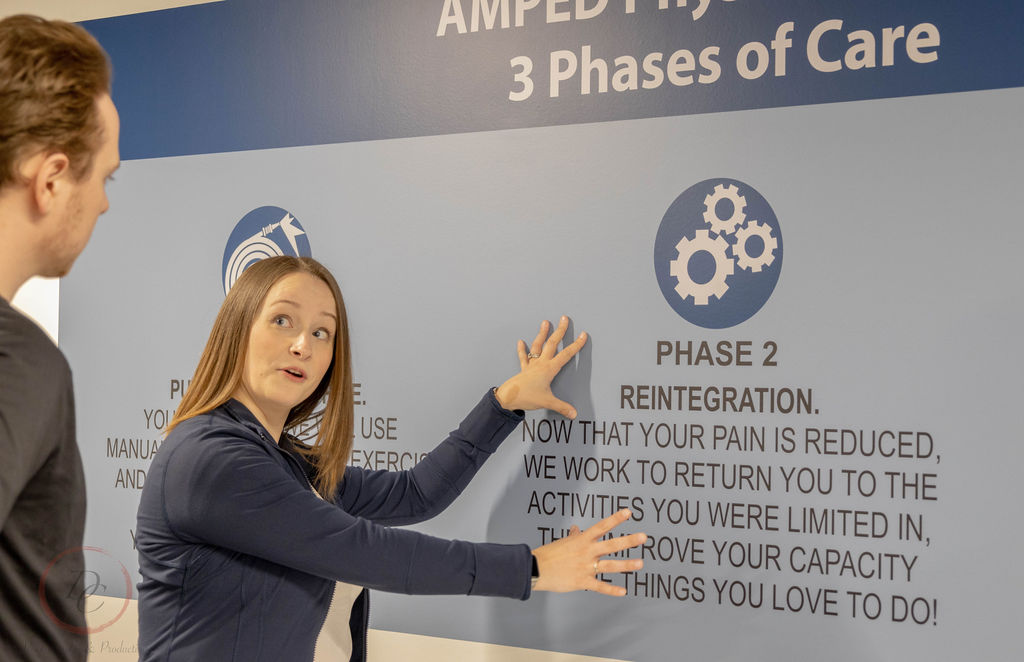 The guide has many physical rehabilitation therapies unique to each patient's needs to allow them to recover from whiplash with minimal discomfort. In an initial evaluation, a physiotherapist must consider the seriousness of an injury, other medical conditions a patient suffers from, and their daily lifestyles. Depending on their findings, they can use imaging tests like MRIs or X-rays to determine the best course of action. Physical manipulation and exercise are also in Amped Physiotherapy's guide to treating whiplash, where a physiotherapist uses joint mobilization, muscle tissue relaxation techniques, stretching exercises, and soft tissue therapy. 
Whiplash can result from poor posture, and physiotherapy in Ottawa analyzes patients' mobility patterns to pinpoint problem areas. Posture improvement therapy may include body alignment/mechanics, lifestyle modifications, and hands-on manipulation. Another whiplash treatment method in the guide is custom orthotics, where a physiotherapist recommends tools and bracers to support/limit motion, minimize shoulder/neck stress, and provide protection from additional injury during daily activities. A physiotherapist may advise leveraging warm or cold treatment to reduce tightness and neck pain. Heating therapy improves blood circulation and relaxes muscle tightness, while cold therapy reduces inflammation and pain. 
Amped Physiotherapy knows how frustrating it is when patients feel like whiplash is holding them back from enjoying their lives. For this reason, they use a three-phase solution, which focuses on patients' individual goals, whether movement, exercise, or sustainability. Besides whiplash treatments, the physiotherapists offer acupuncture, kinesiology, concussion rehabilitation, therapeutic exercises, pelvic health care therapy, and future injury prevention techniques. 
Visit their website to read the Physiotherapy to Treat Whiplash: A Client's Guide, or call 613-822-9000 to speak to a physiotherapist. Amped Physiotherapy is on the 2nd Floor, 2600 Leitrim Road, Gloucester, Ontario, K1T 3V3, CA. 
Media Contact

Company Name
Amped Physiotherapy
Contact Name
Jordan Burgess
Phone
613-822-9000
Address
2nd Floor, 2600 Leitrim Road
City
Gloucester
State
ON
Postal Code
K1T 3V3
Country
Canada
Website
https://ampedphysiotherapy.com/